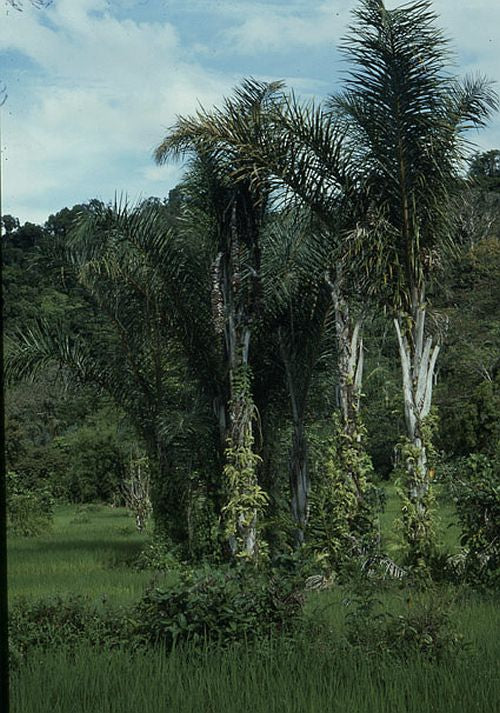 Posted on
---
Have you ever wondered what is raffia and where it comes from?
Raffia is a plant fiber that comes from the leaves of a tropical palm tree shown in the photo above. This palm is scientifically called the Raphia Farinifera. This palm tree grows in tropical parts of the world including in countries of Africa, South East Asia, Central and South America, and Hawaii. One of the world's best quality raffia, however, grows on the island of Madagascar.
In Madagascar, extracting the usable part of the raffia leaves follows a slow and mechanical non polluting multi-step process. It can take several days to obtain usable fibers. The raffia fibers are obtained by stripping the long leaves of the palm tree. Only the long leaves, however, are stripped so the palm tree continues to live. The fibers are then manually removed from the leaf material. The resulting fibers are long, thin, and flexible, with a light green color.
The fibers are then left to dry for several days to allow the green fibers to turn into a natural beige color. Once the leaves are dried, they can be woven into products. In Madagascar, the natural raffia fiber is commonly used for making a variety of every day items such as fabric, baskets, and mats. While natural raffia is a durable material, it is also biodegradable and compostable making it an environmentally friendly choice for creating multiple useful objects.
Browse our Soava website to see the every-day objects that the Malagasy people have skillfully handcrafted from the leaves of the natural raffia that grows in Madagascar. 
In your daily life, make sure you don't confuse natural raffia with plastic "raffia". Many sellers give the name "raffia" to plastic material that can be used to tie flowers or gifts. To get the sustainable fiber, the raffia must be indicated as natural raffia.  Unfortunately, some sellers will also just use the word "raffia" to name any material that is made of plants. The natural raffia however comes from the Raphia Farinifera palm tree, is durable, and sustainably harvested. 
Text is authored and Copyrighted by Soava, 2023.
Image: A group of raffia palm tree growing in Madagascar.
Photo Credit: Dr. John Dransfield, Royal Botanic Gardens/PalmWeb
Quick links
Our Retail Space
2841 Magazine Street
New Orleans, LA 70115, USA
(Inside Zele)
Days: Monday to Saturday:
Hours: 11AM - 5PM
Sunday: Noon until 5PM
Hello@SoavaStore.com
Phone: (985) 326-9103
Woman-Owned Small Business
About Us
Soava makes it easier for you to find carefully curated handmade, socially conscious, and environmentally-friendly lifestyle goods that support conservation and economic empowerment in Madagascar and other African countries. US based. Global shipping. Since 2015.